VSL
Four-column lift for demanding industrial applications
payload up to 3000 kg.
The VSL is a 4-column lift system that ascends a cage, platform, or customized device (frame, hoist). The columns are arranged in pairs opposite each other. And that either on the short or long basket sides, since the platform does not run through any drive elements! With this unique feature, the possibilities are practically endless! The VSL has a maximum payload of 3000 kg and can be configured for lifting heights of up to 12 m.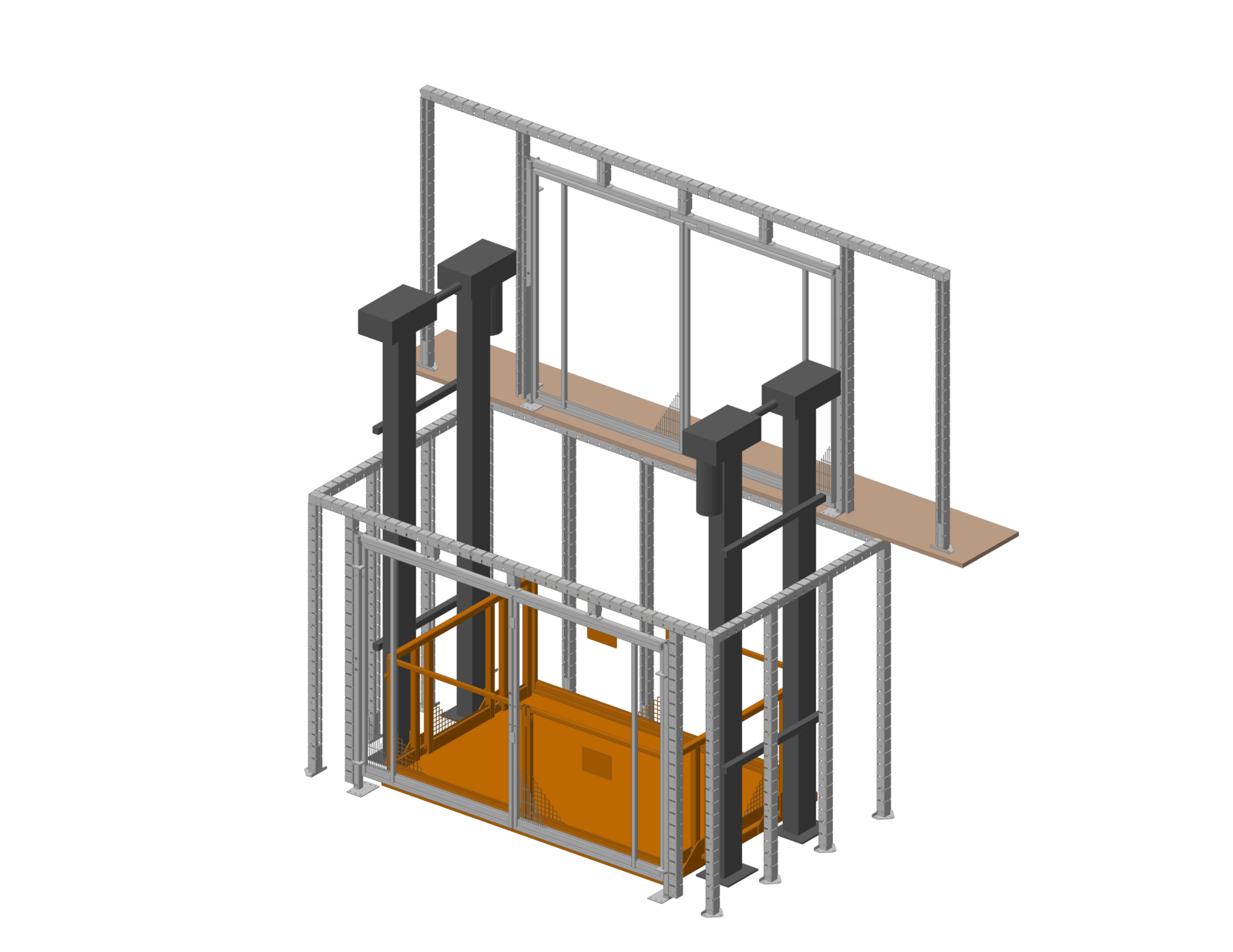 A large number of load handling devices with variable platform widths and lengths allow a large selection. The statics are the only limitation. Platform lifts, cycle stations, jig structures and more can be implemented. With conventional hoisting cages, the cage enclosure has a standard height of 1100 mm with a stable welded mesh filling. The cage access doors are positioned according to customer requirements and of course integrated into the lift control with limit switches. Larger basket enclosures up to a complete conveyor cage are also possible in a variety of ways. The systems can also be integrated into production processes.

Such systems always result from close consultations between the customer and our experts. We build your individual material lift. Talk to us!

By default, the VSL is designed as a fully enclosed, self-running lift system. Each floor has appropriate landing doors and all required fixed enclosures of machine guards. The storey doors are system-integrated and can only be opened when the hoisting cage is in front of it, thanks to an electric safety lock.

Manufactured in accordance with Machinery Directive 2006/42/EG and DIN EN 81/31 for accessible goods lifts including all storey access doors and necessary enclosures made of machine guards.

safety gear
Duplex chain drive with 4x safety factor
Electromechanical engine brake
chain tension sensor
electrically locked landing doors
active overload protection
upper emergency limit switch;
thermal motor protection;

An extensive range of equipment enables you to have your lift system perfectly tailored to your needs!

Excerpt from our equipment program:

Custom cage sizes in 100mm increments
A large variety of drive-on ramps to the high-floor baskets (as a fixed floor ramp or mobile folding ramp) or pit installation for a ground-level entrance (pit depth 120 mm)
Additional or differently arranged cage doors (single leaf or double leaf)
Special basket openings, if necessary Loading and unloading around the corner
Increasing the cage protection up to 2000 mm
a large variety of floor doors with other opening types (sliding doors, roller doors, high-speed roller doors) to match the conveyor basket doors;
increased lifting speed (8,4 m / min.) With soft start, soft stop;
Additional visual signaling
Integration of the system into an external controller

and much more…

BASIC TECHNICAL SPECIFICATIONS

| feature | Value | unity |
| --- | --- | --- |
| Load capacity | max. 3000 | kg |
| number of floors | max. 6 | |
| Control | Automatic control with control points on all floors | |
| Lifting height | to 12.000 | mm |
| Lifting / lowering speed (standard) | standard 4,2 (optional 8,4) | m / min. |
| Minimum conveyor cage length (external dimension) | 1700 | mm |
| Maximum conveyor cage length (external dimension) | 6000 | mm |
| Minimum conveyor cage width (external dimension) | 1700 | mm |
| Maximum conveyor cage width (external dimension) | 4000 | mm |
| Enclosure height conveyor cage | 1100 – 2000 | mm |
| Horsepower | 2 x 4,0 | kW |
| Control voltage | 24 | V |
| Protection | IP 54 to IP 66 | |
| Connection values | 400V (3PH+N+PE/50Hz) | |
| Start-up mode | Soft start / soft stop | |
| Motor data | S1 motor (continuously running) | |
| Conveyor cage / means | Customizable in 100mm increments | |

Advantages that convince!

Simple planning thanks to our modular building block system
Space-saving and low-wear chain drive
No special structural work required
Ramp or low pit depth (120 mm)
Infinitely variable lifting height adjustment up to 12 m
All column lifts are designed for continuous operation (S1 motor)
Electro-mechanical drive (gear motor + chain)
No separate machine room required;
Very quiet running
No trained staff required (comparison forklifts)
Reduces absenteeism due to accidents and illness
Low maintenance
Can be set up outdoors
3D model
Augmented Reality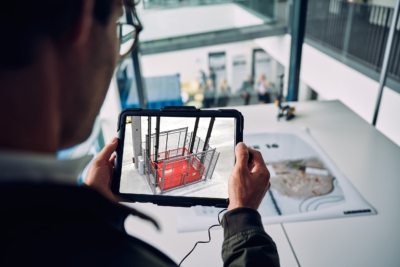 Visualize the VSL in your environment!
Scan QR code
Place VSL in space
View from all sides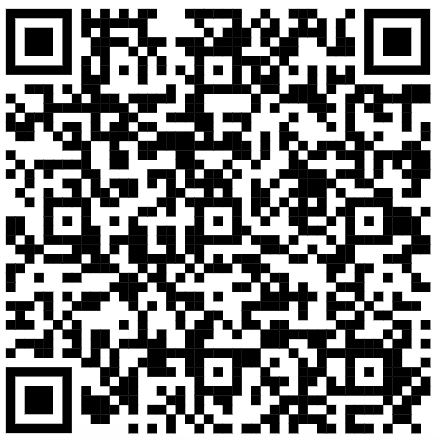 visualize