Planning guide
Important notes on the design and installation of WEP-Weisshaupt SLS pro column lift systems
The SLS pro (SäulenLiftSystem für prosprofessionelle Anwendungen = column lift system fpr professional applications) is a material lift system acc. Europ. Machinery Directive 2006/42 / EG & EN 81-31 Accessible goods only lifts. It is delivered by us, when assembled by our factory fitters, with a CE marking and certificate of conformity.
The SLS pro does not fall under the elevator regulation.
SLS pro lifts may not be accessible to the public and may only be operated by instructed persons.
An SLS pro - lift is not a means of passenger transport (elevator)! Any ride on the conveyor cage by people is strictly prohibited. The device is used exclusively for unattended material transport from one level to another.
The following system configurations result depending on the installation situation:
Freestanding lift in front of a shelf storage platform, wall with storey door openings or similar. (so-called installation in "airspace"):
The SLS pro - Lift is completely enclosed on the bottom floor with a machine guard up to a height of 2500 mm. The storey door (s) is / are also equipped with a machine protective grille and is 2500 mm high. The storey doors are always provided with a so-called "interlock" (= machine-electric safety lock), door opening button and lift control point.
The upper floors are provided with identical storey doors including a lift control point. In the case of a mezzanine with an open front adjacent to the lift system, a 1000 mm wide and 2500 mm high fixed machine guard must also be provided on the right and left of the storey door as protection against the running lift system.
In the case of lift systems with a "pass-through conveyor cage", the conveyor cage door facing the air space on each floor where there is an air space situation must be secured against unintentional opening by an additional barrier.
Lift system integrated into a shelf storage platform, running through openings in the ceiling:
Such systems must always be completely enclosed on all levels (2500 mm high per floor for both the storey doors and the fixed machine safety grille), as there is no complete view from any control station.
Due to country-specific safety regulations, all lift solutions proposed by us must generally be checked in advance by the customer's safety officer for feasibility.
Further technical information:
SLS pro - fixing required for each floor
The SLS pro - Lift is fixed to the floor and in the area of ​​the column head as standard. For devices that serve more than two levels, floor-by-floor attachment is required.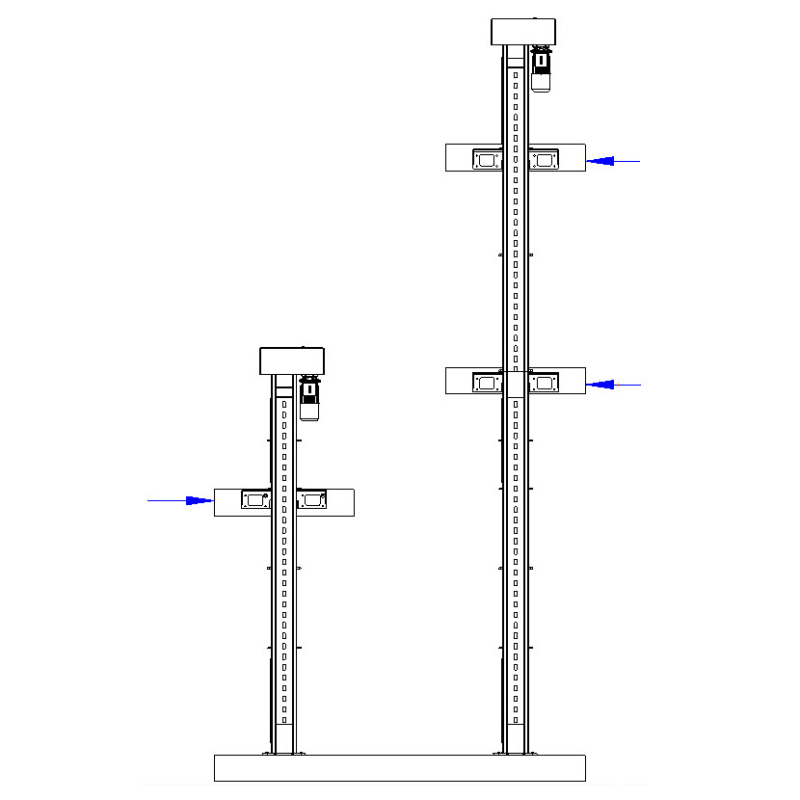 Requirements for the foundation
The foundation for the floor support of the lift system should be made of concrete. The concrete slab must be set up frost-free on natural ground. The concrete slab must be flat and horizontal and have the required load-bearing capacity. The latter is to be adjusted based on the ground pressure of our lift system. The drilling depth for our floor anchoring is approx. 15 cm, which is why, based on experience, we recommend a minimum concrete thickness of 25 cm. We also point out the required concrete quality of C25 / 30. If the lift is installed on an existing concrete ceiling, its load-bearing capacity must be checked by consulting a building expert.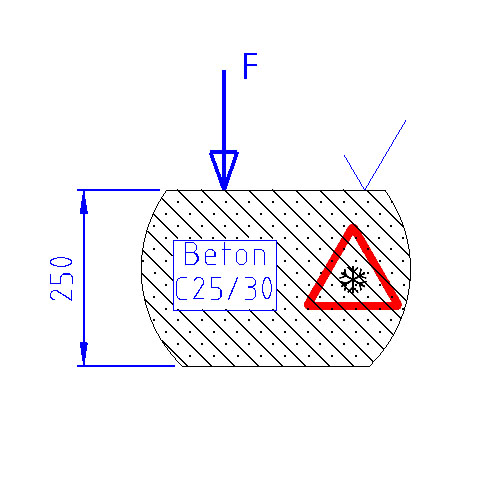 Flatness tolerances
In the case of four-pillar (VSL) or transverse two-pillar systems (ZSLq), the tolerances for the evenness of the concrete floor according to DIN 18202, Tab. 3, Line 3 must be observed!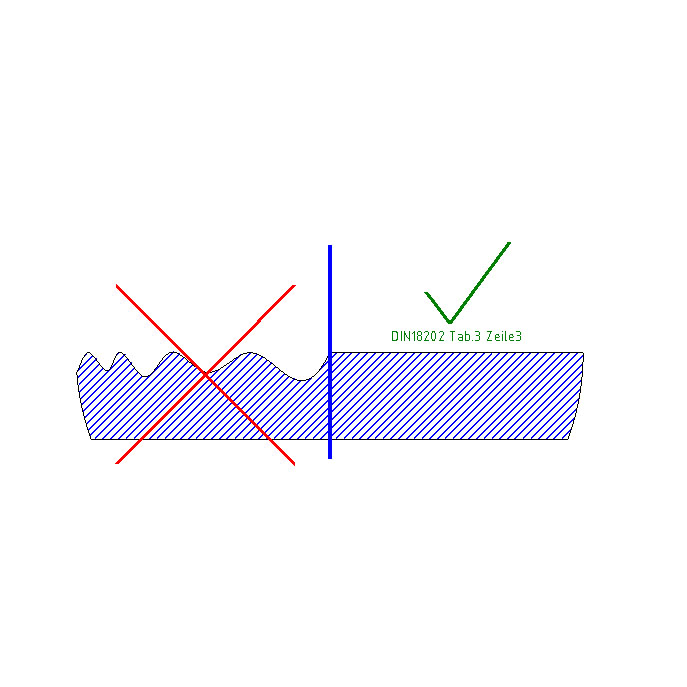 Attention underfloor heating!
If underfloor heating is used, the customer must inform us in advance so that we can coordinate the course of the underfloor heating pipes with him. Under no circumstances may pipes run below the contact surface of our lifting columns!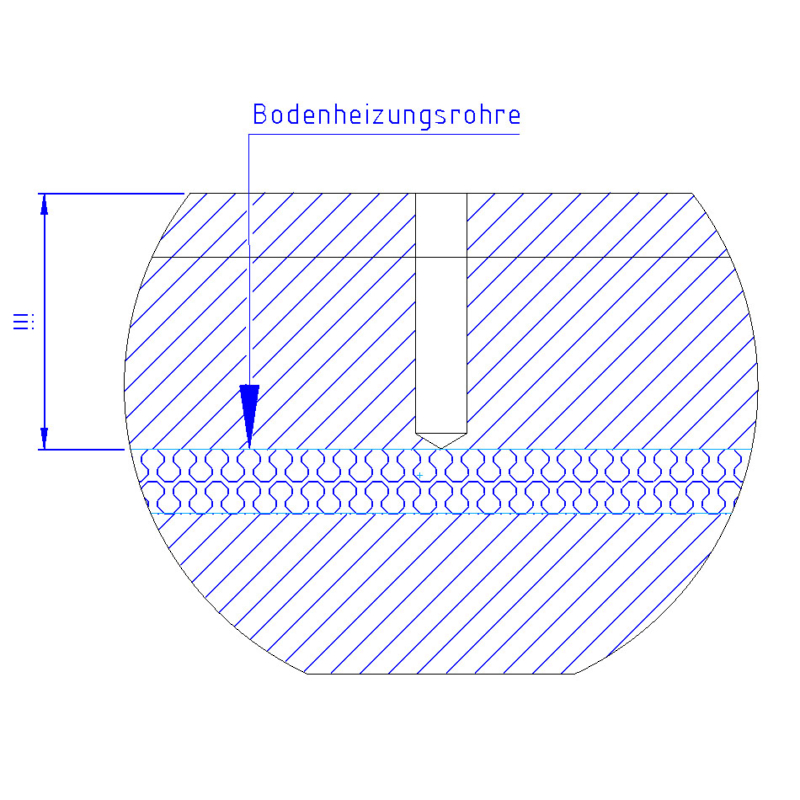 Observe anchoring regulations!
Heavy-duty anchors M 16 x 150 with mechanical expansion or chemical anchoring must be used for floor anchoring. The anchoring regulations of the anchor manufacturer must be observed.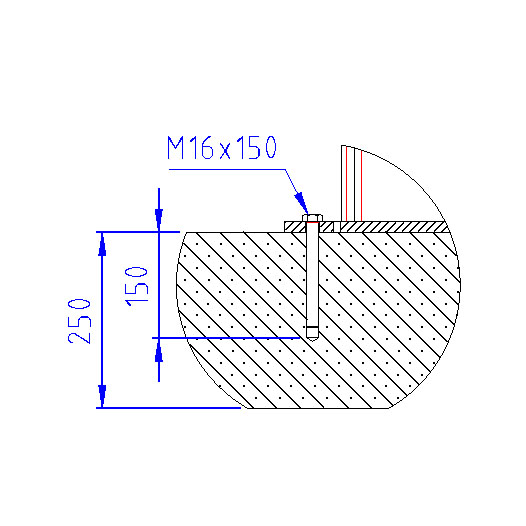 Attachment to wall or steel structure
Heavy-duty anchors M 10 x 100 with mechanical expansion or chemical anchoring must be used for wall anchoring. The anchoring regulations of the anchor manufacturer must be observed. When connecting the column to on-site steel structures, M 10 threaded screws + washer + washer + self-locking nut or object-specifically dimensioned clamping structures must be attached.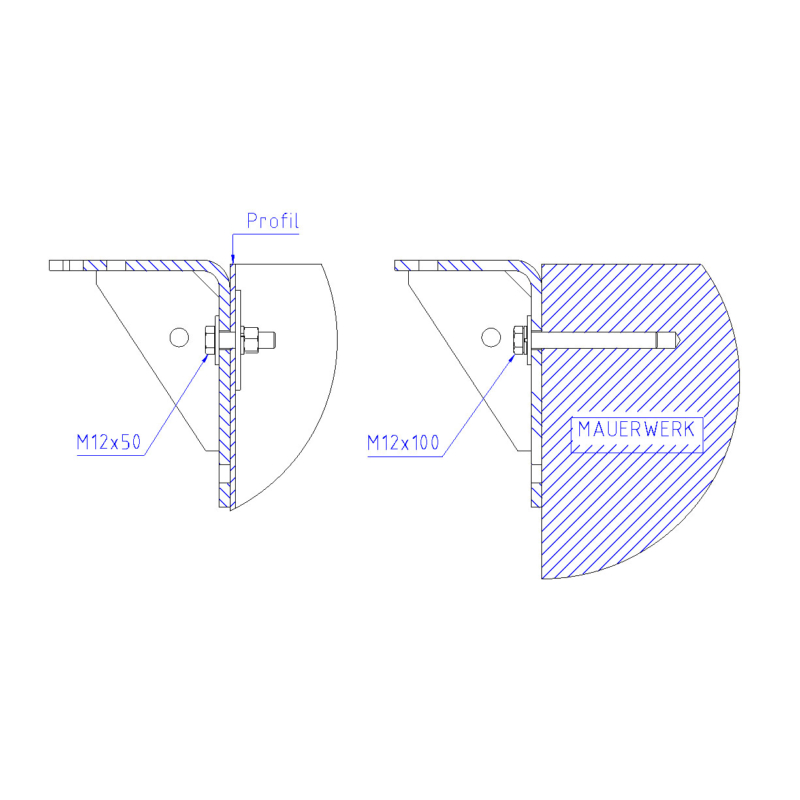 Supply line to the control cabinet
We need a supply line of 5 x 2,5 mm² (400V / 3 PH + N + PE / 50Hz) to the control cabinet on site. The supply line must be protected by a 3 x 16 A slow-blow fuse or a 3 x 16 A automatic circuit breaker, tripping characteristic C or D. A larger cable cross-section may be required depending on the type of installation or cable length. Please observe DIN VDE 0100.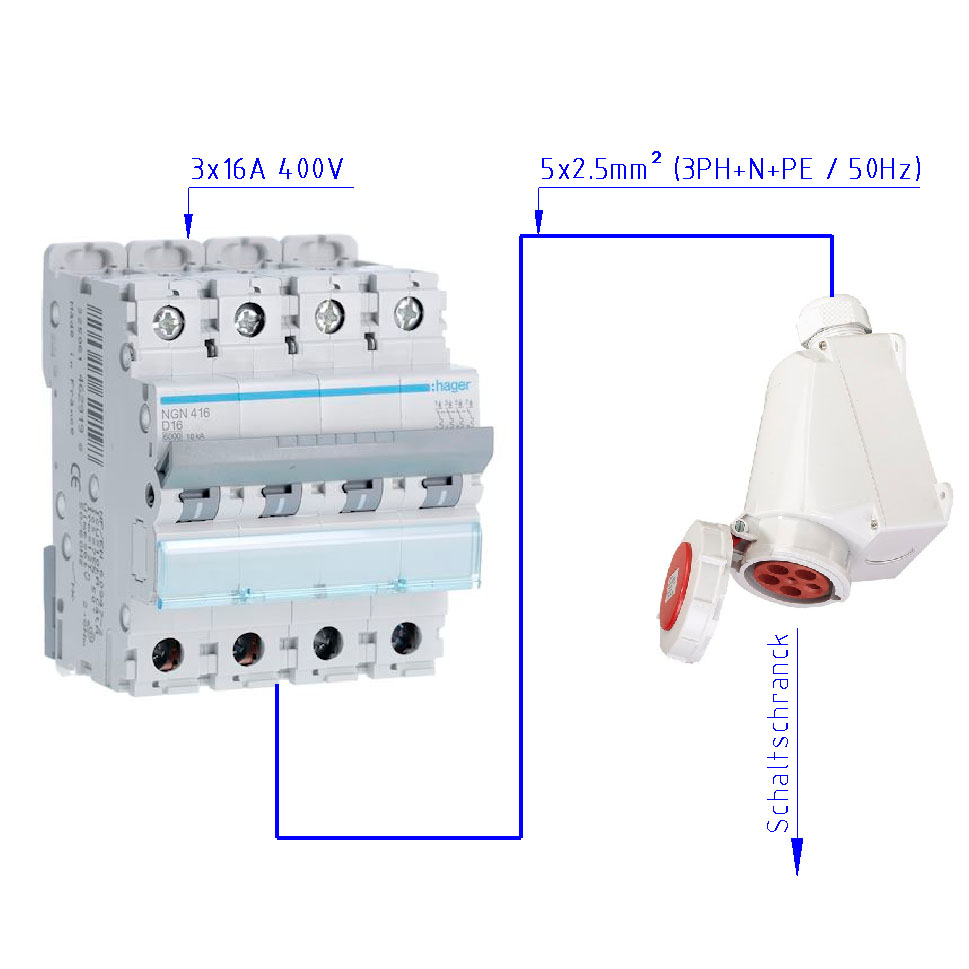 Fault protection switch necessary
We also need a fault protection switch with a tripping current difference of at least 300 mA.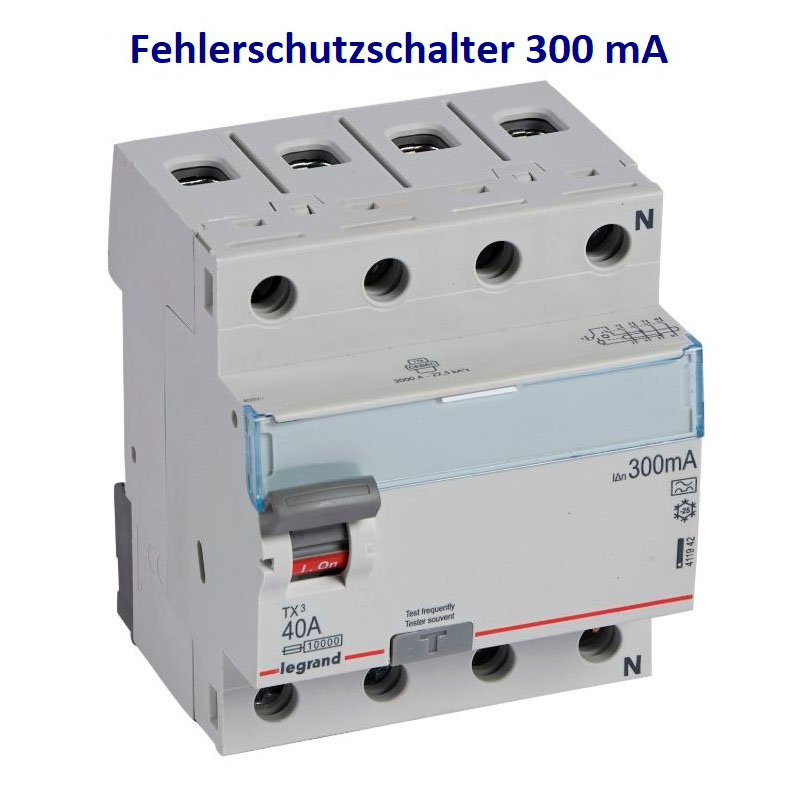 Foundation earthing according to DIN EN 60204
According to DIN EN 60204, the systems must be connected to the foundation earth electrode. A corresponding earth connection is to be provided by the customer up to the base plate of the device.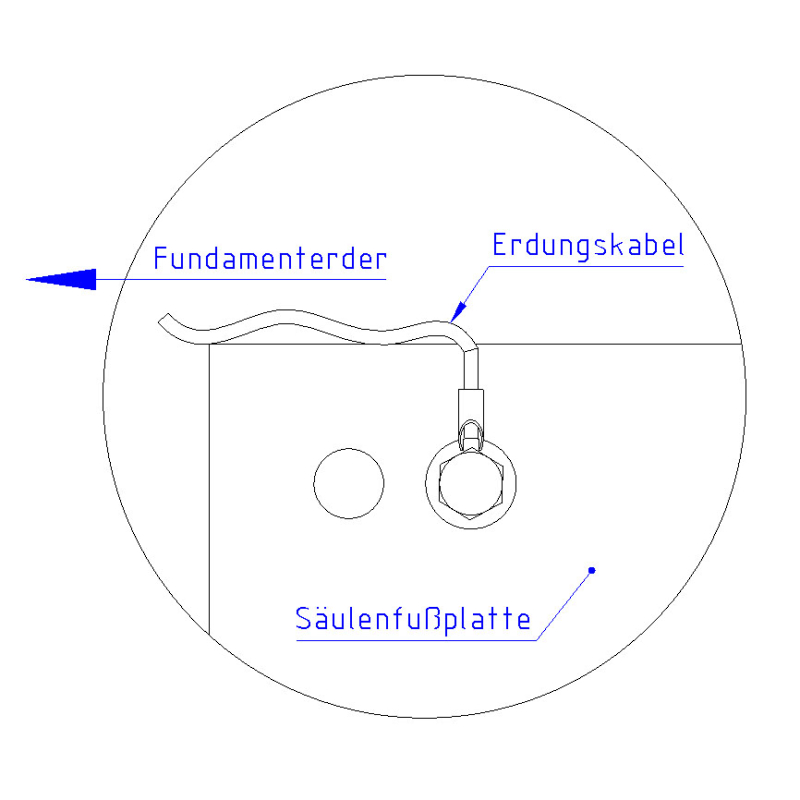 Drainage for outdoor installation
Provide adequate drainage for lifts standing outside in a recess in the floor. A water drain with a connection to the sewer system or to a pump sump with a submersible pump is to be provided by the customer at a location in the floor recess determined in consultation with us. For environmental reasons, we advise you to paint the floor recess with a protective coating in accordance with regulations. Furthermore, the customer must provide any required oil or gasoline separators.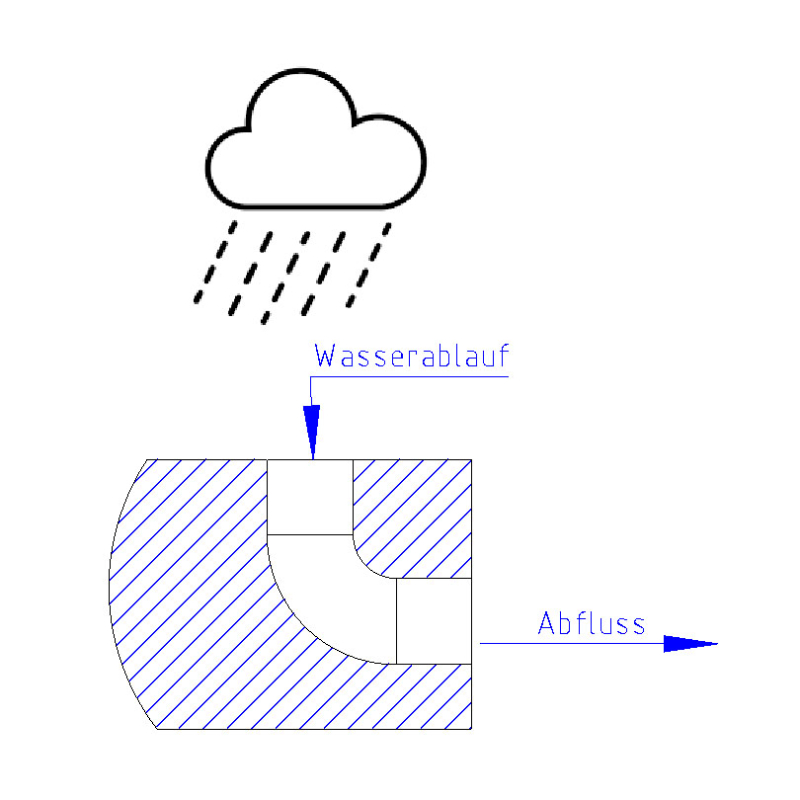 Outdoor installation: individual special equipment
Outdoor installations require special equipment (increased rust protection, increased requirements for electrical equipment) the scope of which must be clarified with us depending on the installation conditions.